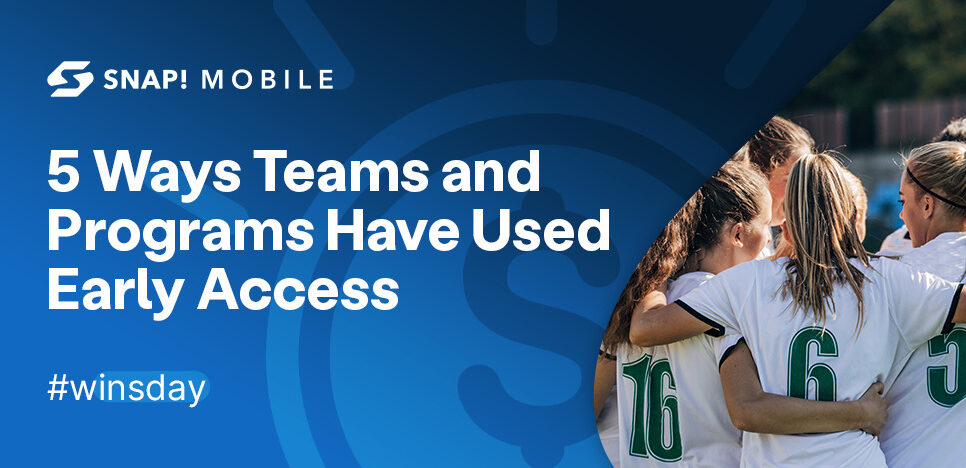 If you had extra funds, right now, for your program, how would you use them? With Early Access, you get a portion of your fundraiser total before your fundraising campaign, so you don't have to wait to make purchases for your program. According to Early Access users, there is no shortage of ways to leverage advanced funds for the success of your program.
1. Eliminate personal out-of-pocket spending.
Desert Oasis High School Girls' Flag Football team based in Las Vegas, NV is a nationally recognized program in their sport. Their coach does not receive funding from the school and was previously forced to pay out of his own pocket for items such as flags, cones, footballs, etc. Their coach used Early Access funds from Snap! Raise to purchase necessary equipment before the start of the season. His team was adequately prepared for the upcoming season and did not have to worry about out-of-pocket expenses.
2. Gear up, no matter the season.
Lakewood High School's football coach from Los Angeles, CA was unable to access the funds in his school account over the summer due to district policies. With advanced access to his fundraiser proceeds, he was able to purchase gear to outfit his program for summer workouts. Not only was he able to outfit his team, but this had a dramatic influence on his program's culture and garnered support from his parent community, setting him up for a positive season ahead.
3. Don't let travel expenses get in the way of your opportunities.
Arizona Unity Basketball from Phoenix, AZ competed in their summer season and earned the opportunity to compete in the Nike Peach Jam showcase in South Carolina with other Elite basketball programs from around the country. The coaches used their advanced funds to pay for the travel expenses to enter the tournament. Had they not received their advanced funds, the program would have had to forgo the trip and miss the opportunity to compete on a national stage in front of many college recruiters.
4. Purchase and repair your equipment.
The Bellflower Music Department based in Los Angeles, CA used Early Access funds from their Snap! Raise campaigns to pay for instrument repairs before the school year, and additional music lessons during the first semester. This provided their students with opportunities to learn, prepare, and feel excited about the year ahead.
5. Host community-building events.
Juan Seguin High School's football booster club out of Arlington, TX used their advanced funds to pay for a pre-season kickoff barbeque. This event enhanced the culture of their program and created excitement for their season within their community. Team building is crucial for successful programs, and creating spaces outside of practice for a group to come together can amplify the culture of that team.
Every program has meaningful fundraising needs. With Early Access from Snap! Raise, gain an edge over your competition by being able to invest in your program before the season even starts.