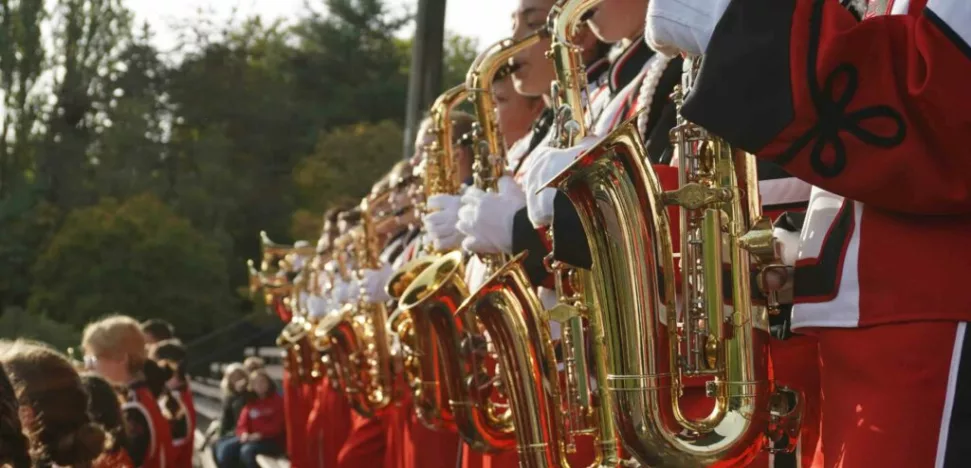 Musicians might have to work day jobs, but students in high school marching bands and orchestras shouldn't have to. That's why efficient fundraising is critical to the success of any high school band.
Instruments ain't cheap, uniforms need to be purchased, and travel comes with an unavoidable price tag. Because funding from the school and district is rarely enough to fully fund a program's needs, high school bands need ways to raise money that don't interfere with the already-tight schedules of students and band directors.
Make some money so your band programs can make some music!
Check out these six essential band fundraiser ideas for high school bands and orchestras.
1. Host a Concert
Concerts are a band's forte! Use your best assets to your advantage and sell tickets to a performance.
Don Santa hats and throw a holiday concert, complete with winter tunes and holiday standards.
Provide the classic dinner-and-a-show date night and include the price of a plate or table in ticket prices.
Incorporate a silent auction into the concert. Collect item donations from band families, local supporters, and community businesses and let people bid on the goods before the show begins.
2. Practice-a-Thon
It's a two-for-one: the young musicians get to practice and raise money. Similar to a walk-a-thon, students prepare for the fundraiser by asking community members to pledge to donate a certain amount of money determined by some metric of "practice."
Whether you get 50 cents for every page of sheet music practiced or a buck for every five minutes of rehearsal, a practice-a-thon is a great way to raise money and your band's level of playing.
3. Organize a Festival
Team up with other music groups in the area and sell tickets to a music festival. Invite other local bands and go all out with a "Band Fest," or coordinate with your school's other music groups (think choir, orchestra, and musical theater) for an all-school "Day of Music."
For some extra cash, sell festival food and carnival games for guests to enjoy when they aren't watching the show.
4. Host a Battle of the Bands
Many students form music groups outside of school programs and are eager for an opportunity to perform for an audience. From jazz to heavy metal, from indie rock to punk – there's a whole world of student music jamming after school gets out.
Set a night for local youth bands to show off their own sound and compete for the "champ" title. Your program can charge an entry fee, sell tickets to the show, and offer concessions during intermission.
5. Tutor Younger Musicians
The Golden Rule works in fundraising, too. If you are looking for people to lend your program a hand, look for ways to lend a hand to others, as well!
Coordinate with elementary and middle school band programs to advertise the opportunity for younger students to learn from a high school mentor. Or, you can host a day-long workshop where younger musicians can play alongside the high schoolers in the band program, be conducted and taught by the high school band director, and break out into small tutoring groups led by the high school students.
6. Virtual Fundraising
Let technology do its thing while your program does its thing.
Use the internet's unopposable ability to spread the word about why your high school band matters and what the program needs. Reach more people. Raise more money.
Streamlined online transactions make donating to your band simple while eliminating the unnecessary, burdensome logistics and time-consuming drain of fundraising. The band can let the community know about the fundraiser online, and the community can in turn donate what they wish online – no going door-to-door, no buying tickets, no product sales.
Through a virtual fundraiser with Snap! Raise, band students will not be pressed to desperately dig for extra time to raise money for their program, band booster fundraisers can find other ways to help the program and band directors can breathe a sigh of relief that their job title won't temporarily have to shift from "music teacher" to "salesperson."
And besides – aside from sheet music, musicians have never liked paperwork, anyway.
Snap! Raise has been used to raise over $18 million for high school bands and orchestras. Hear how:
—– There is no shortage of online fundraisers geared toward seemingly every fundraising need. But there's only one digital fundraising platform that is built specifically for groups and teams. Snap! Raise has already helped over 40,000 youth sports teams and educational programs achieve their fundraising goals, and that number is growing every day.
Contact us to learn more!