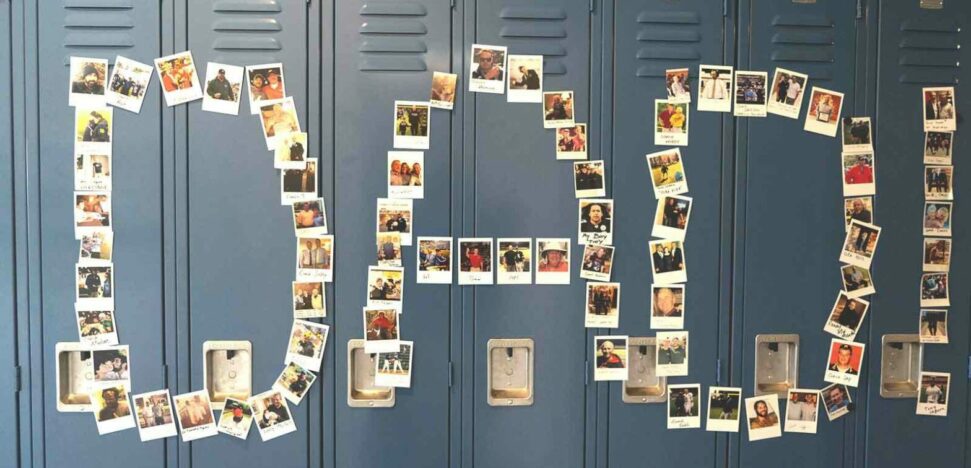 Many Snap! Raise employees are former athletes, so more than a few of us were coached by our dads growing up.
Happy Father's Day!
Tom Conboy
Regional Development Manager, Minnesota I grew up on the sideline of a football field, of a swimming pool, of a wrestling mat, you name it. My father, Tim Conboy, coached every sport under the sun except for ice hockey (which is ironic because all of us played ice hockey). He was willing to drive us across the country to compete at high-level tournaments in whatever sport we chose to play. Not only did he give us the opportunity to do that, but he also held us accountable by making sure we put in the work to get to that point. He's a community leader who has been in the same position at the high school as an AD. He has impacted so many students over the last few decades to the point where I run into these people as adults who talk about how he had an impact on their lives. I was fortunate enough to have had not only a father but a coach who was willing to go to the end the ends of the earth for me. That's one thing that I carry with me in my role at Snap! Raise – how can I emulate what he did for so many for the people I work with on a daily basis? That's a lesson that will stay with me forever.
Chelsea Thompson
Social Media Manager Growing up, Saturday mornings were the best part of the week. When they weren't filled with college football or cartoons, it was chocolate chip pancakes and chalking the field before taking shots on goal. My dad was a volunteer soccer coach for all three of his kids' teams. For 15 years, he would pack up the truck with soccer balls, cones, and pennies, and we would get to the fields early so that the very first family to arrive on the sidelines had teammates to warm-up with and a friendly coach to talk to. He gave us tough love at practice and made sure that we put in work where it was needed, but when it got to game time, he always had the loudest cheers and claps on the sideline. Back then, my dad was recognized for being the happiest person on the field.Everyone loved Coach Steve. Even now, 11 years after his last game, people will still stop me at the grocery store or reach out on Facebook to talk at length about how much they appreciate him. My dad made the kind of impression that changes the way kids now see the world as adults. Every high five and "you can do it!" instilled value in them as athletes, which now extends far beyond the field. Seeing how my dad impacted my friends and teammates inspires me to do the same. I hope one day I can be just as great of a coach as my dad was. I love you, Coach Steve – Happy Father's Day!
JT FitzGerald
Regional Development Manager, California Coach Smith was my freshman football coach, my freshman science teacher, my wrestling coach for all four years, and my athletic director – but the coolest part was that he was the guy I called "dad." He is actually my stepdad, but I didn't really have that father figure in my life growing up so he filled that void from a young age. He's the guy who shaped me into the man I am. He did a great job of balancing the dad life and coach life. One of the things I respect the most about him was that I never got any special treatment and he would always push me to do my best, but at the same time he would support me in those times I need to be supported. My senior year of high school I lost a close match in the wrestling state semi-finals against one of the top guys in the state. Reflecting back on everything I did to train, and everything we did from waking up at five in the morning before school to run, or needing to lose some weight before school started… after the match I just lost it and just started bawling. He understood what I was going through in that moment because he had been there before right on that stage. He came over to me when I was crying, sitting there with my singlet still on, and he told me 'Hey, you have five minutes to cry and you're done' because I had to go back and wrestle another match after that. That's our whole relationship in that moment. Dad, I just want to thank you for everything that you've you know you've provided me and give me to be successful in athletics and in life. It's something I can never pay you for, and for that, I/m forever indebted to you.
Maddi Null
Office Coordinator The things I learned from having my Dad as my first coach in soccer were extremely instrumental to the rest of my career and life as a whole. He taught me to rise to the occasion of a close game and how to take the unruly fire burning inside of me and control it with ease. Most importantly, he taught the importance of perseverance and the power in being a relentless force to be reckoned with. Thank you Dad for being the best coach I could have had and for always reminding me to "Lace 'em tight and kick 'em straight."
Erin Johnson
Events and Projects Manager Growing up, I was lucky enough to have three amazing coaches, but at the top of that list was my Dad! Having my dad as a coach was one of the most rewarding experiences. He taught me to always give 100% on and off the field and to always take risks. Not only was he an amazing coach, but he was also my biggest supporter and fan in my running career through college. Dad, thank you for all your support! All my wins and successes are owed to you!
Zach Milkis
Marketing Writer It is my privilege to have not one but two dads – my dad and my stepdad – who have both enriched my life in immeasurable ways. My dad, Steve, volunteered his time to coach several of my little league baseball teams. The pinnacle of our collective achievement was my 5th grade year when our squad made it to the league championship game. That was an up and down season for me; I had my confidence rattled early on, but my dad continued to push me and prove to me that I was capable. I surrendered the winning run in the championship (you can't win 'em all), but the entire team of eager 11 and 12-year-olds still gave him a much-deserved Gatorade bath. Around that time, my dad bought me an electric guitar – a blue Fender Squier Stratocaster – and enrolled me in guitar lessons. He instilled in me a deep appreciation of music that I have carried with me my entire life. In my adult years, he's become one of my closest friends and allies, someone I can count on to challenge me when I need to be challenged, and someone I can always look to for guidance and support. When my stepdad, Larry, entered my adolescent life, he would patiently help me practice every sport imaginable – from the ones he loved (basketball, tennis) to the ones he couldn't stand (baseball). As I got older, my appreciation for him as a human only deepened. A social impact entrepreneur, Larry has inspired in me a curiosity about the world, a voraciousness for knowledge, and a responsibility to stand up for what I believe in. To both of my dads – thank you for teaching me how to work hard, think deeply, be vulnerable, make unapologetically bad jokes, dream big, and remain true to my passions. Today and every day, I am so grateful for you!
Shannon Heric
Marketing Designer Dad, thanks for being my #1 supporter from day one. Growing up playing every type of sport, you would be cheering me on rain or shine. You were there to shoot extra hoops, hit extra balls, and take me to and from practices, games, and tournaments – all with encouragement and a smile. You took time to be a volunteer coach, to give everyone a chance to play. Not only would you take me to practices, you would be the one to volunteer to throw extra pitches, help with warm-ups, talk about game strategy, and tell me I could do it. You took the other players under your wing just like they were your own and made them feel special. Your kindness and love for the game to just go out and have fun has given me the life lesson to do my best, but to make sure to have fun along the way. Thanks for being my basketball, soccer, volleyball, and softball coach, but most importantly my number #1 fan and Dad. From all of us at Snap! Raise, we want to extend the dadliest of high fives to every hardworking, passionate dad out there. We appreciate you!