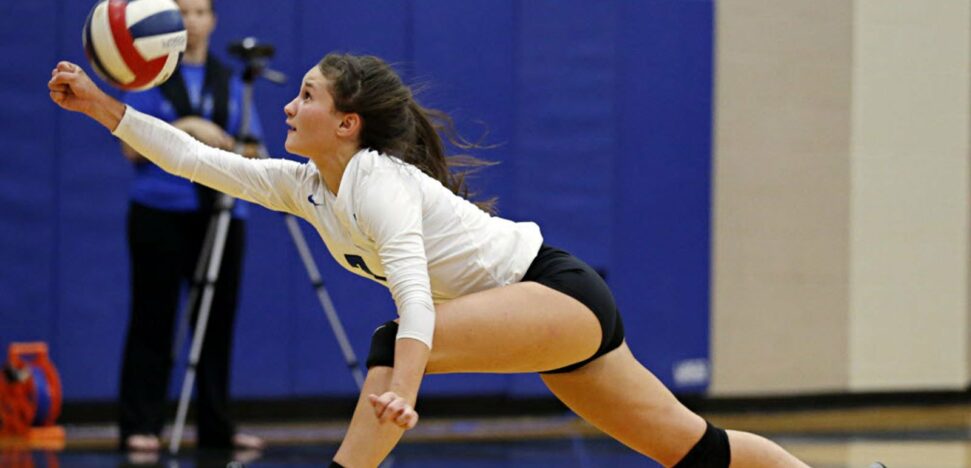 With five Texas 6A state championships in just 20 years (including three in a row from 2015-2017), Hebron High School Volleyball has put itself squarely on the map of Texas's top high school volleyball programs. Head coach Karin Keeney has been there every step of the way. See how Keeney built a Texas high school volleyball dynasty through deliberate leadership, savvy fundraising, and an insatiable thirst for competition.
"We kind of brainwash our athletes into that drive of wanting more," Karin Keeney, head coach of Hebron High School Volleyball, said of her program's secret to success. "They know how to work. They're not afraid of competing."
In 1999, Keeney was an assistant volleyball coach at a high school in Lewisville, Texas when she took a chance on a head coaching gig at Hebron, a brand new school opening in her district.
Four years later, the Hebron Lady Hawks were state champions.
"We played a JV schedule the first year, then we played a varsity schedule the in 2000. I went 0-10 in districts," Keeney said, reflecting on the program's earliest days.
"It took us from year 2000 to 2004 to win our first title. It took us four years. Looking back on it, it's amazing that we were that fast."
Today Hebron Volleyball competes at the 6A level, the top tier of Texas's University Interscholastic League, and continues to not only stay competitive, but thrive.
Hebron has won an unprecedented five Texas state volleyball championships since Hebron opened its doors 20 years ago, including three in a row from 2015 through 2017.
Keeney has been recognized for her individual efforts as well, earning several coaching awards including the 6A volleyball Coach of the Year by the Texas Sports Writers Association and the National Tri-Coach of the Year by PrepVolleyball.com.
It took us from year 2000 to 2004 to win our first title. It took us four years. Looking back on it, it's amazing that we were that fast.-Coach Karin Keeney, Hebron High School Volleyball
Hebron's rise to the top – though remarkably fast – was no walk in the park. When she first started at the new high school, Keeney recalls that she didn't have much to work with.
"We were in P.E. class during the first year, me and another coach, and we had three kids, so we played a lot of ball in those days," Keeney laughed.
When it came to pulling a volleyball team together, the circumstances weren't much better.
"When the school opened, we had 498 kids," Keeney revealed. "Most of the programs here were struggling because it was all freshmen and sophomores we opened with."
In addition to her players' lack of experience, Keeney had no foundation in which to ground her struggling team.
"My program at the time was just starting out. There was no culture, there was no tradition – there was nothing."
With the odds stacked against her fledgling Hawks, Keeney bravely led Hebron Volleyball into uncharted territory.
It didn't take long for Hebron to cultivate a competitive and disciplined team culture that brought the Hawks immediate success, catapulting them into the most elite echelon of Texas high school volleyball programs.
A Lesson in Hard Work
Faced with a blank canvas, Keeney began by searching her own background for foundational values to instill in her program.
"I came out of the Midwest from more of a blue-collar community, and I've got a work ethic about me," Keeney stated.
"We work hard in this program. We teach the kids that nothing's handed to us. There are no guarantees when you work hard, but it sure makes it a little easier."
Keeney's Hawks know how to put their heads down and get to work. Of course, the veteran coach also uses a sprinkling of tough love as a motivator.
"Some of the kids will ask me, 'coach, is it ever good enough?' Nope, it could be done better. When you work that hard on the court, the kids start to want something for it."
Though her approach may seem stern, with the reputation the Lady Hawks have cultivated over the past 20 years (which includes that Texas 6A state title three-peat), Keeney is clearly on to something.
But she doesn't take all the credit. She reveals that her program's success, in addition to her players' contributions, was made possible by the support of the Hebron High School community.
"I've got parents in the area who have more money than I had growing up, but they still got that middle-class mentality," Keeney explained. "They want their kids to work hard. They understand that mentality."
She continued: "It's really important, as a coach, to find a school that fits your thoughts, your mentality, your philosophy."
Despite maintaining such high expectations, Keeney still celebrates her athletes' mistakes; she finds that taking risks and making mistakes is an essential part of the growth process.
"I love watching them make mistakes in practice and seeing their wheels turning. You know what they were trying to do but they didn't get it done," she began. "In a game when they make those mistakes we've been working on, I jump up and down and get so excited.
"I'm trying to get across that I'm okay with that mistake," she added. "That's a great mistake to make because by the end of the season they're going to be kicking butt because they're going to have the confidence to go do it."
Keeney teaches her kids not to let the fear of failing dissuade them from taking risks. Under her guidance, her athletes both improve their game and build resilience.
"We're trying to get them to have the confidence to go after the big things instead of playing it safe."
A Volleyball Fundraiser for Champions
Keeney expects nothing less than excellence from her team on the court each season. The same goes for volleyball fundraising.
That's why the Hawks have been able to raise over $105,000 since 2015 with online fundraising platform Snap! Raise.
Keeney encourages participation by putting a competitive spin on every Hebron Volleyball fundraiser.
"We put the kids into teams," she started. "They have a team captain and team names and after two weeks we do a checkpoint of what each team has raised."
Teams with better participation get more donations and are awarded for their efforts accordingly.
"'Oh! You don't have to do the hill today. You get out of conditioning today.' And oh boy, the donations go up," Keeney smiled.
Since fundraising with Snap! Raise, Hebron Volleyball has raised record amounts.
"We've doubled to tripled our funds with Snap! compared to cookie dough," she said. "It's brought in more money than anything I've ever done as far as fundraising goes."
Despite their success with Snap! Raise, Keeney admits she was hesitant to make the switch from her old go-to cookie dough fundraiser.
"I was a little afraid to let go of my cookie dough, but we're healthier without eating as many cookies," she laughed. "And it's so much easier."
"The problem with cookie dough is you've got to pass it out and you've got to store it and 'oh, so and so's parents didn't show up,'" Keeney said, recalling the trials and tribulations posed by product sales fundraiser.
Now that they're using Snap! Raise, the Lady Hawks can let the donations come to them – meaning they don't have to spend their free time as cookie dough salesmen.
"My kids and parents love it. They like that they don't have to go out and sell anything."
Unlike their past product sales fundraisers, Snap! Raise doesn't limit the Hawks' scope of potential supporters.
"Some grandmas and grandpas couldn't contribute before because there was no way to get those products to them," Keeney recalled. "It wasn't an easy deal."
We work hard in this program. We teach the kids that nothing's handed to us. There are no guarantees when you work hard, but it sure makes it a little easier.– Coach Karin Keeney, Hebron High School Volleyball
"I like that Snap! Raise involves more than just my little community," she continued. "We can reach people all over. That's huge."
Snap! Raise's online platform has allowed the Hawks' annual fundraiser to reach new heights, earning the program over $120k through over 2,000 individual contributions.
"It's amazing what people are willing to do," Keeney continued. "People who don't have kids who play for us but because of what we've done, our competitive program, they'll donate."
As an elite team, the Hawks know better than anyone that the success of every volleyball fundraiser is critical to the vitality of their program's legacy. In order to compete at the highest level, they need the resources to continue improving and to keep up with their competition.
So far, successful Snap! Raise campaigns have aided the Hawks in their mission to perform at the best of their abilities.
"It allowed us way more comfortability in our travels," she said. "It costs over $5,000 to travel with a team for four days. And I don't pay for meals. That's only the bus and the hotel."
Though experiences like tournaments can really break the bank, the Hawks are equipped to seek out their toughest competition, no matter where it may take them.
Even with these expensive experiences, Keeney says there's still money left over each year from their Snap! Raise campaign. She puts the additional funds in a savings account that allows her to save up for "the little things."
"We got a ball machine and I don't think we would've gotten that ball machine if we hadn't used Snap," she said.
Keeney was also able to customize their equipment with their school logo.
"We put our logo on the pads that go around your poles," she said. "It looks sharp when you come in the gym and there are some logos around. It looks good."
Thanks to their Snap! Raise campaigns, the Hebron Lady Hawks have the resources to feel like the elite team they are. Of course, that includes an end-of-year celebration fit for champions.
"Our banquet at the end of the year is a big deal. When you win state, you want to go all out. Our banquets have been great. It's made a big difference in our program."
At the moment, Keeney is preparing for their upcoming season. Preparations include visits from alumni who went on to play college volleyball, who serve to both motivate and inspire current players.
"They get to hear from kids who just sat where they did a year ago," she began. "I put them in front of my kids and ask, 'so what did you learn?'"
"The one thing they all say is 'when you leave this program, you leave with a drive,'" she continued. "Not everybody has that drive. You're going to find out in the world that not everybody thinks like you do."
Hebron Volleyball is distinguished by its work ethic, and, when it comes down to it, that's what it's all about for Keeney.
"I always tell them, 'it doesn't matter if you never play another game of volleyball in your life; you're going to go after a job, and there's going to be 20, 30 people after that job,'" Keeney said.
"What are you going to do to stand out? How are you going to stand out?"
With one standout season after the next, the student athletes of Hebron Volleyball understand that it's their relentless drive to compete that makes all the difference.