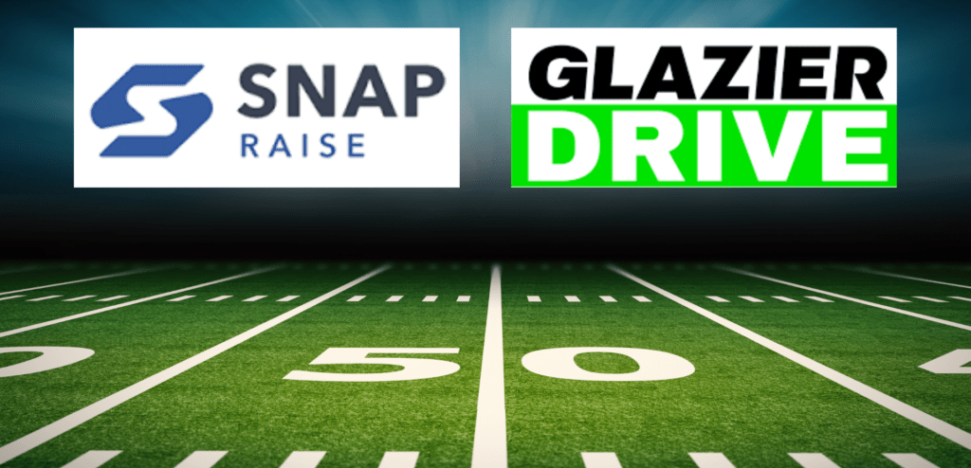 Colorado Springs, CO. and Seattle, WA., December 7, 2020 — Glazier Clinics, the world's largest provider of football coaching education and Snap! Raise, the nation's leader in digital fundraising for teams and groups, are proud to partner to support the ongoing development of high school coaches. The 2021 partnership cements Glazier and Snap! Raise as champions of coaching education in a time when delivering quality growth opportunities to youth athletes requires the utmost creativity and resourcefulness.
Glazier's new Glazier Drive (www.glazierdrive.com) will serve as the platform for delivering in-depth instruction on 22 coaching systems, including live Q&A with the system creators. Also included are more than 900 standalone videos, live online events, and a complete social platform including forums and direct messaging. New video content is added daily.
Snap! Raise joins an exclusive network of partners dedicated to investing in football coaches by making Glazier Drive affordable to every coach at every school. In addition, Snap! Raise's safe and completely digital platform coupled with local campaign directors enables coaches to take their fundraising to the next level at any point during the year.
Through the partnership, Glazier Drive and Snap! Raise will provide high-value opportunities for football coaches around the country to identify fundraising ideas, as well as other sport and activity fundraisers, to help coaches fund their program and gain access to world-class coach training. This digital access is vital as coaches are restricted in their ability to access these opportunities at in-person coaching clinics.
"At Snap! Raise, we believe that every kid needs a champion coach in their corner. Supporting coaches in their journey to create rich experiences for their teams and groups is vital, which is why we're very happy to partner with the Glazier Drive team", said Trevor Downs, President of Snap! Raise. "While we've been fortunate to work with Glazier for the past six years, their new Glazier Drive training platform is exactly what coaches need to be successful and to continue developing their skill sets. We're here to support coaches as they work to build life-changing programs for their students."
"Snap! Raise has pulled off the unthinkable. They have proven you can stay safe during COVID and raise more money with less work than ever before!" said Chris Coughlin, CEO of Glazier Clinics.
About Snap! Raise
Snap! Raise is the nation's leading fundraising solution for youth athletics and extracurricular programs. Built to help youth leaders, donors, coaches, and school administrators champion student-athletes and artists, Snap! Raise is the platform of choice for more than 70,000 groups around the nation. Since 2014, more than 4 million students have used Snap! Raise to safely raise upwards of $350M for local teams and groups. Get in touch to learn more, or to sign-up for Snap! Raise.
About Glazier Clinics
Glazier Clinics has been the largest name in football coaching education for the last 40 years. Over 30,000 football coaches attend live Glazier events every year, and more than 60,000 coach- es are season pass holders. In 2021, Glazier will invest all of the resources normally reserved for in-person coaching clinics into Glazier Drive to help coaches win more. Glazier Drive's 22 full coaching systems, 900 standalone videos, live eClinic events, and interactive social platform pro- vide an unparalleled opportunity for coaches to learn in community, even when they are restricted from attending in-person clinic events. Glazier Clinics is based in Colorado Springs, CO. For more information, visit www.glazierclinics.com
—– There is no shortage of online fundraisers geared toward seemingly every fundraising need. But there's only one digital fundraising platform that is built specifically for groups and teams. Snap! Raise has already helped over 40,000 youth sports teams and educational programs achieve their fundraising goals, and that number is growing every day.
Contact us to learn more!