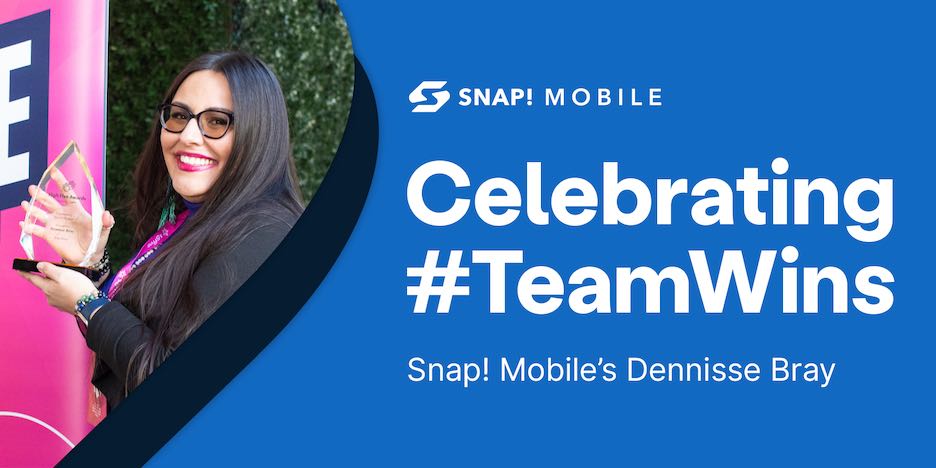 On November 18, 2022, Snap! Mobile's Senior Human Resources Generalist, Dennisse Bray, was awarded the Community Champion Award at the Thrive by 15Five conference. The award was created to highlight impactful contributions to the HR Superstars Community, which gathers people who are committed to making leadership and culture within human resources spaces an asset to businesses. Dennisse was honored for her collaborative efforts to create a lasting impact at Snap! Mobile and for encouraging others in the field to support one another.
The Snap! Mobile editorial team sat down with Dennisse to discuss her career in HR and what human resources means to her.
—-
Megan Wedge, Senior Copywriter at Snap! Mobile: Well, let's start by discussing how you got into HR.
Dennisse Bray: Sure! I "landed" in HR in 2008 by happenstance.
Early on in my career, I worked in customer service and retail, and I was looking for more office and administrative-type work. I went through a temp agency specializing in office placements and was placed as a temp for a company that sold medical devices– durable medical equipment. It was supposed to be a two-week assignment–primarily filing, capturing notes–you know, standard office admin work. Two weeks became two months, two months became two years… and I'm still in HR!
I had no formal HR experience previously. It was not on my radar at all; the way I see it now is that my manager saw that I had some of the skills needed in that space. I was lucky to have her as a mentor, and my next manager at that company was a mentor as well.
MW: Did you feel it was an immediate fit?
Dennisse Bray: I do think so. HR requires a core understanding of customer service–I already had those soft skills. All that was left was to learn more about the HR function itself.
I moved up the ranks over several years; I started as an assistant and then moved into a coordinator, and eventually a junior generalist at that first company. I've been both a generalist and a specialist–so many different areas of focus within HR.
Overall, I liked that I was able to help other people, which I think is a typical drive for people in HR. I also really liked the fact that you never have the same day twice.
MW: Absolutely! Before you got into HR, you had a background in doing voiceover work and were even a host on a local TV channel. Could you tell me about that?
Dennisse Bray: I really wanted to be in journalism since high school–that was my dream. I went to college for a communications degree (I also wanted to study Political Science), but I had to move back to my hometown. That's when I started working for the City of Santa Barbara in their Community Development department and got to work within several teams.  Someone I worked with learned about an opportunity at the city channel and told me I should apply.
Through that opportunity, I got to have my own little segment on a Spanish-language show called Nuestra Ciudad (which means Our City). I did monthly stand-up features. Writing the segment and filming was enjoyable. Around that time, I also got opportunities to do some voiceover work.  I once even did a TV commercial for an anti-smoking campaign.
It was so much fun getting to do things within the communications space!
MW: That's awesome! Do you feel like those experiences inform how you work in HR?
Dennisse Bray: Absolutely. Everything I've done–and all my experiences–shape my approach to HR. I've been an employee who had to contact HR. It has kept me very empathetic to the human side of everything, especially with everything going on in the last few years.
"HR at Snap! Mobile is so much more than just managing an employee's time with the company. There is always something new! It's challenging, collaborative, strategic, rewarding, and the most fun I have had in my career so far."
Jenn Malone, Human Resources Director
MW: How do you view HR overall? In comparison to the reputation that it has?
Dennisse Bray: Well, in general, HR has a reputation for being anti-employee–that the sole purpose of HR is only to protect the company, and we don't care about anything else.
One of the things that we're trying to highlight is that we're here to be partners with people. I think it's important for people to know that HR is there to help–to be a partner in your employment journey, and throughout life's various seasons.
Work is part of our day and not necessarily our entire identity. We operate in a lot of different spaces as human resources, so I want people to know about the different things we can do for them. We can offer solutions or even just be someone who listens. We may not have an answer or an immediate solution, but at the very least we can try to find resources for support.
MW: That's a great way to think of it. Sometimes it feels like going to HR is an escalation rather than just going to someone for help or a shoulder to cry on. Do you feel like that's something that people misunderstand?
Dennisse Bray: TV, movies, and media, in general, affect how people see HR. I always think about Toby from The Office. [laughs] There's another movie where the HR person there was bribed with a Snickers bar… it's like we're just… oversimplified.
There's also this cultural stigma that if you go to HR, it's because you're at a breaking point, and they [HR] won't really help.
I'm very aware that people may have had past experiences with an HR department or representative who wasn't helpful or wasn't kind. Not everyone has had an HR team who acknowledged their humanity and said, "Hey, I understand. I'm sorry you're going through this. Let me see how I can help you." They're used to it being very transactional.
HR will never be a one size fits all solution. When faced with new situations or complexities, we just learn how we can adapt our approach in the future.
Sometimes, we have to say, "I don't know." It's hard because you become so vulnerable in that space. I personally always take the approach of "I don't know the answer but let me see what I can find out for you."
Transparency helps build trust. People know you can't expect everyone to know everything all the time. However, you can be open and say, "let me collaborate with you and let's learn from it." It's a win-win situation when that transparency and partnership happens.
MW: Transparency is so important to building a good relationship between HR and employees. We're pivoting a bit, but since we're into the nitty gritty of HR and your current career, what drew you to Snap! Mobile?
"Our team is a unique group of varying HR experts who truly care about making sure we provide our teammates with the best experience at Snap! Mobile. I'm still new to the HR field, but from day one, my colleagues have been there, helping me learn and grow alongside them. We always look for ways we can change to better support all our teammates."
Taylor Pierce, HR Business Partner
Dennisse Bray: I was contacted by a recruiter who introduced me to Snap! Mobile. I learned about the company, what we do, and how we help students. The student piece was my biggest draw because I firmly believe in education.
I'll have been here for two years this upcoming July. I feel like I was meant to be here. I'm so glad that I get to be here every day and I try to make a difference in the most positive way I can.
MW: You said your second anniversary is coming up, right? So, barely two years in, and you're already an award winner! How did you find out you were nominated for an award from 15Five?
Dennisse Bray: I got an email from someone at 15Five, and they said that I was being nominated for an award. I thought it was a mistake! [laughs]
I wasn't told who won beforehand, so while we were all told to write a speech, I didn't! To top it all off, that was the first award of the night, too. I don't even remember what I said! I wish I had written something down, in retrospect. I got emotional. It was a surreal experience.
Community within HR is critical. Getting that validation was such a great way to show that we support one another. It was just an excellent opportunity to connect with other people, learn, and be challenged about why I do what I do and how I do it.
MW: It just shows you're doing HR the right way. For the people who are like you and think of HR in the same mindset as you, it's affirming that you're in agreement about the best way to approach it.
Dennisse Bray: The other thing [the award] highlighted for me is that it's a good reminder not to internalize the negative things you come across in the media and online. People can't see what goes on behind the scenes; we're trying to undo or reverse the reputation that HR has had for decades. I'm thankful that I was able to have those face-to-face interactions and feel the powerful energy of people wanting to do things differently.
MW: You're fighting against this misconception as an individual, but the misconceptions are on a global scale with TV shows and movies that have just reached an audience that's so much more than any individual could ever get to.
I will say that, personally, you made me view HR differently. You've been there to support me by answering questions and explaining how specific processes work without reinforcing the stereotype that HR is only there for escalating problems to management.
Dennisse Bray: Thank you for saying that! That's why we're here. I'm fortunate to be part of an HR dream team that is different. They want to be proactive. They're empathetic. They are very pragmatic and human in their approach.
Realistically, can we always give people the answers they want to hear? No, not necessarily. But we do our best to be able to look at all available options, and when we say we're here for you, we mean it. We can be there from the beginning to help you before things get to the point where it's a problem. We're here to be partners. That's our intent. That's our drive.
It helps us when we know something is happening. We can only support you if we know what's going on. That's where the partnership comes in. It's days like today that I do what I do.
"We are a team of human resources whose collective goal is to set up individuals and teams for success by providing tools and clear information to help our employees navigate through life's various seasons."
Snap! Mobile, Inc. HR Team Motto, est. 2022
MW: Naturally, a career in HR tends to require quite a bit of interpersonal communication, and I've heard you say that you are an introvert. In your opinion, what does that mean, and where do you fall on the spectrum of introvert versus extrovert?
Dennisse Bray: I took a Myers-Briggs personality quiz, and I learned that I was an introvert. This happened before the pandemic, but the pandemic recontextualized what being an introvert is to me.
My introversion does shift how I do things, though. For example, after a lot of Zoom meetings, I feel the need to take a moment to rest and get ready for the next thing. Zoom fatigue is real! [laughs] I wasn't honoring that before because I've always looked at resting as something you earn, and you always must power through. Now I honor that when I can–I listen to my body and my brain.
I always tell others to check in with themselves, so I guess it really feels like I should lead by example!
People often associate introversion with shyness–once people get to know me, they realize I'm not that shy.
My introversion also led me to start a group for introverts on LinkedIn because there's a perception that people in HR are always extroverts. We currently have over a hundred members, and I'm in there sharing articles or newsletters that I stumble on that other introverts would benefit from reading.
I've also learned to tell people about my introversion. For example, I may share that I'm not super vocal during meetings, it doesn't mean I'm not engaged; it's just that my introversion makes me process the information fully before I share a thought or idea. Sharing how I think things through, or process things, helps people understand my approach, especially in group gatherings.
I'd like to clarify that this does not mean I am going to be the quietest person in a meeting… but sometimes my quiet just means I'm absorbing information.
MW: I think there is a widespread misconception of introverts versus extroverts that says extroverts are typical, so introverts are atypical and even antisocial. But from my understanding, it's more about how a person recharges. Just like you said, it's a different way to interact with others. [laughs] You're correcting a lot of misconceptions in this interview!
Dennisse Bray: It's starting to feel that way!
MW: There's a power in being open about things like that, you know? As you said earlier, vulnerability as a person in the HR field can help make connections.
Speaking of connections, what advice would you give to somebody looking to get into HR? Is there a specific personality type that, given your experience, you think is best, or are there particular steps someone can take to get into it?

Dennisse Bray: The first step is to ask yourself, "Why do I want to get into HR?" I think I alluded to this earlier, but it's common to hear, "I want to help people." You can specialize in so many areas, so I would recommend thinking about which one calls to you.
There are a lot of fantastic HR blogs and podcasts out there that I love listening to because they talk about everything you could think of and give you a high-level understanding of what real day-to-day HR work is like.
The other piece of advice is, being in the HR space, you have to learn to compartmentalize and not internalize everything. Sometimes doing the right thing is all you can do. It's not always going to feel great, and you're going to have tough days, and you're going to ask yourself, "What could I have done differently?" Sometimes the answer is nothing.
That's how I approach HR–I always expect the unexpected. We'll take every challenge and complexity as it comes. LinkedIn is also a great place to talk to other HR folks, and many of us are open to telling individuals what our journeys have been like. So, get out there and ask questions! Just prepare for it to be different from what you thought it would.
And, of course, communities like the HR Superstars are invaluable–they provide a place of connection, reflection, and learning opportunities.
MW: That's good advice. Well, as we wrap up, is there anything else you'd like to add about your experience with HR? And once again, congratulations on your award!
Dennisse Bray: That was such a highlight of my year; it still feels surreal. In general, for anyone out there: be willing and able to give yourself the same grace and compassion you give to others. We all have a lot to do; we are all busy. It's also essential to be able and willing to take that moment to pause and take some deep breaths and really check in with yourself.
Remember, HR is here for our employees to leverage. Help us help you and let us know if you have any questions. We're here for you; we want to support you. We all have such different roles here, but we're all part of the same team and it all leads to the same mission and values. You're doing the best job you can, which is the most important thing.
"Our HR team is so dynamic! We're really trying to give HR a new image. We are all different, and we embrace these differences and come together to make the best decisions for the organization. Dennisse being an HR Superstar is no shock to me! She asks the right questions and is objective. Our team is so happy to have her and each other overall."
Crystal Williams, HR Coordinator
At Snap! Mobile, we believe that support matters. Click here to learn more about how we can help support you by raising more with less effort. Click here to see our open and available positions.