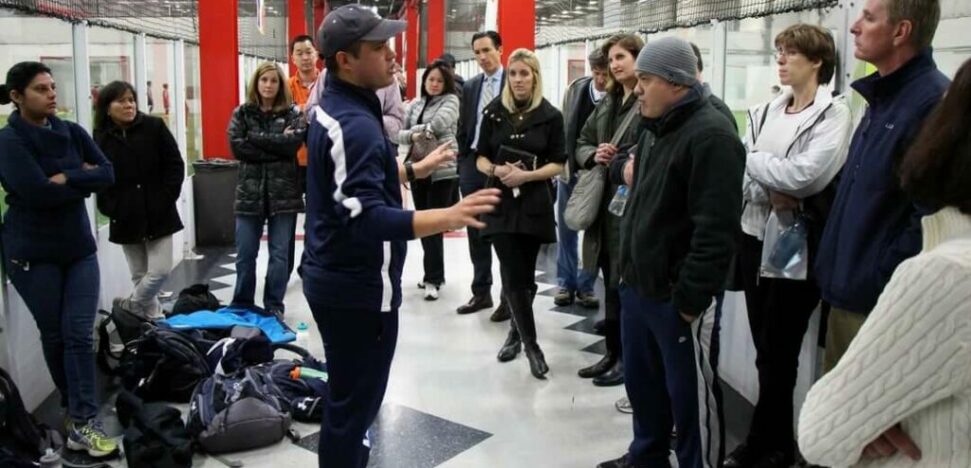 We've talked to hundreds of youth sports teams from every major sport and found that everyone struggles with the same problem: collecting team dues from parents.
Anyone who's been in the position of collecting for a team knows the hustle and frustration that goes into getting paid. Teams need the money to meet their obligations – paying for facility or field rentals, paying coaches, entering tournaments, granting scholarships, etc. Not getting paid can be a major blow to a team.
Most competitive youth sports programs spend 40+ hours every season collecting money and end the season with 5-10% unpaid dues. That's a shame since most teams operate on extremely thin margins, and spending time collecting team fees distracts organizers from focusing their undivided attention on developing young athletes.
Over the course of our discussions, we found a select few programs who solved the collections problem with ease. They spend 2-3 hours per season collecting and have less than 2% unpaid dues. Here are the secrets we learned from them and used to design Snap! Spend.
They have a system to stay organized
Teams that collect with ease have a system for keeping themselves and parents organized. Teams quickly know how much they've collected, how much is left to collect and who owes what. They can effectively track payments, create custom payment plans and grant scholarships without losing checks or forgetting to record who's paid.
On the flip side, parents know exactly what they owe and when. They also have a convenient way to pay. Participating on a team is a commitment from both players and parents. Players are expected to be at practice on time and parents are expected pay on time.
Paying is convenient and automated
The most common reason fees go unpaid is because they are forgotten. Either parents don't know what they owe or when, or they don't have a convenient way of getting organizers the money. Parents are busy juggling a million things and remembering to write a paper check and deliver it is a hassle.
Teams that collect on-time and in-full have parents enroll in automatic electronic payments, just like a monthly gym membership. Teams communicate that being part of the team is a serious financial commitment and without their support the team can't operate effectively. Signing up to pay is easy for parents; they provide their preferred payment method up front and are billed automatically throughout the season. Even better, they receive automatic reminders before they're billed.
The result: month-after-month, the money needed to run your team automatically appears in your bank account.
Enrollment is required to join the team
Getting parents enrolled in the system of automatic payments is the most important step. Once they're setup, 95% are on autopilot for the rest of the season. The other 5% need to occasionally update their payment method or work with you to delay or modify a payment. Making enrollment in your payment system a requirement to be on the team is the most important thing you can do to streamline your collections. Rip the bandaid off once at the start of season and save yourself the headache of doing it every month.
They're compassionate
Life happens and families experience setbacks. A loss of a job or an unexpected expense can come up throughout the course of the season. Sometimes parents just don't have the money this month. The best teams encourage parents to engage with them from the start. They're willing to work together to make sure that the team gets paid in a way that works for the parent's budget. Teams have flexibility to delay payments, split payments up, spread them over a longer period of time or even forgive a payment. As long as teams know their budget and have an easy way to track and manage it, they can work with the parent to find a solution that works for everyone.
Bonus: cut cash and coaches out of the equation
By making payments automatic, teams cut the liability of coaches collecting payments and cash going missing out of the equation. Cash is too easy to lose or misplace. Sometimes it just disappears. The best teams have a clear money trail so these issues never happen. More importantly, coaches should be spending their time coaching, not collecting money or reminding parents to pay. Great teams know this.
Set up your own automated payment system in minutes, and save hours
While the teams we talked to put together a system of their own, it took a lot of time, cost a lot of money and required technical expertise to get started. That's why we created Snap! Spend to make it easy for teams to stay organized and set up automatic payments in minutes.
Here at Snap! Spend, we're dedicated to making managing your club's money easy, starting with opening a bank account. Snap! Spend's digital banking platform gives you an online bank account with built-in online payments to collect dues and budgeting tools to track spending. It's the easiest way to manage your club's money.
—–
There is no shortage of online fundraisers geared toward seemingly every fundraising need. But there's only one digital fundraising platform that is built specifically for groups and teams. Snap! Raise has already helped over 40,000 youth sports teams and educational programs achieve their fundraising goals, and that number is growing every day.
Contact us to learn more!