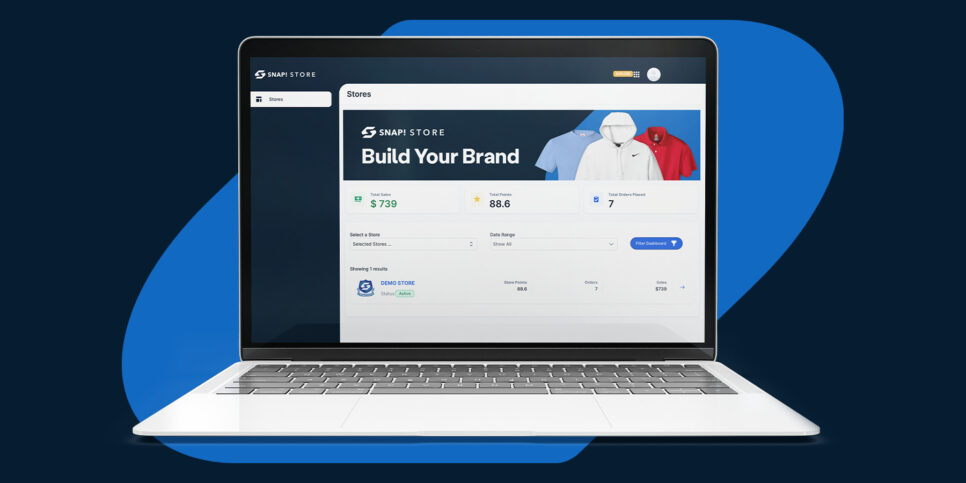 The Power of Snap! Store
Snap! Store allows you to easily provide  your community access to quality spirit wear all year long.Your program's Snap! Store is open 24/7/365, so that team members, fans, and family can show support and rep your brand year-round. With custom merch printed on quality brands such as Nike, Adidas, and Champion, including environmentally friendly options, your community has a range of premium gear to choose from.
The Snap! Store Dashboard
With the launch of the new Snap! Store Dashboard, you can get even more seamless oversight into, and benefits from, your program's store. The Snap! Store Dashboard enables the transparency needed for store managers and owners, and the opportunity for them to really take ownership over their program's store success. Integrated with the Snap! Mobile suite, a store manager can navigate between their products into their Snap! Store Dashboard seamlessly.
Dashboard features and benefits
View Orders
Explore store sales and support for your program! Your new dashboard allows you to see what products are being purchased, and the shipping and delivery status of orders from your store. Discover what people are wearing to rep your team's brand–and find out when it reaches them.
Buy, Share, and Redeem Points
Our points program allows you to grow your brand and reward your participants! Receive 10% back on every purchase, less shipping and taxes, in the form of points. Points can be bought, shared, or redeemed at any time–and every 1 point = $1 dollar to spend in store.
Has one of your program members set a positive example for the rest of your group? Reward them by transferring points to them for a purchase of their choice! Plus, you can track your total points accumulated and redeemed at any time.
Connect with Support
Our dedicated team manages your online store, keeping it easy for you. That means we take the orders, manage your inventory, take payments, and ship spirit wear direct to your customer. Work with the support team on any questions regarding orders, store management, and more.
—–
Taking full ownership of your store will allow you to successfully reach supporters and build your team's brand. With your new Snap! Store Dashboard, you gain total transparency over your sales and access to dedicated support. Plus, our points feature, which enables you to reward your hardworking team!
A store will be automatically created for your program when you run a Snap! Raise fundraiser. If you don't have an upcoming fundraiser but would like to request a store, complete this form.